Membership Criteria
Actors' Guild membership is strictly reserved for professional actors – a community of peers that is totally actor-led.
One of our great strengths is the numbers of uniquely skilled professionals that make up our membership – our joining criteria aims to support and protect that. We therefore uphold the same criteria for all those who apply and do not operate a multi-tier system for members.
All applicants are assessed on individual merit, but successful applicants must meet all three of the following criteria as a minimum:
Please be prepared for us to validate your credits and professional associations as part of your membership application.
When assessing an applicant's four verifiable acting credits we will be looking for experience in Theatre, Film, TV or Radio. For the purposes of application only, we are unable to include the following in the count: student films, commercials, stills photography, music videos, corporate, role-play, workshops, events and dance credits.
We do not recognise promotional, modelling, presenting, supporting artist, rehearsed reading, site specific, walk-on or non-speaking work (unless specific to a project such as a silent film where you are credited as an actor) as professional acting credits.

Benefits of Membership

Join The Actors' Guild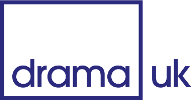 Drama UK, the new body championing quality drama training in the UK, has now officially launched.
Drama UK formed from the merger of the National Council for Drama Training (NCDT) and the Conference of Drama Schools (CDS) and will continue to fulfil the functions of the NCDT and CDS, including the accreditation of vocational courses and providing support to those organisations offering accredited training.
Drama UK's new website will be live shortly: www.dramauk.co.uk